Roll over image to zoom in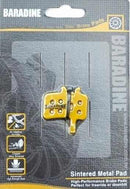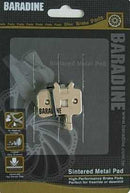 Description
Disc Brake Pads - Sintered

Sintered compound offers powerful braking performance, highest friction from all compounds offered and excellent lifespan due to hardest compound ( full metal / pressed copper ) which makes it the best value for money.

Sintered pads are ideal for downhill riding as they can withstand extreme punishment due to wide operation temperature and very high friction.
Excellent heat-resistance

Better braking performance in wet condition

Suitability - Avid mechanical 2002-2004, Ball Bearing 7, Juicy 7, Juicy 5, Juicy 3, Ultimate and Promax DSK-950

INCLUDED
Includes 2x individual pads (pair) and stainless steel spring for use with one caliper of your choice.