Roll over image to zoom in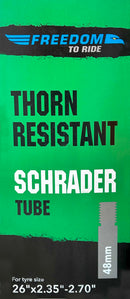 Description
Bike Tube - Schrader - Thorn Resistant

This thorn resistant tube is designed to be thicker on the road side and a little thinner on the rim side to keep the rolling weight lower than a standard thorn resistant tube.

26"x 2.35"-2.70" (48mm stem length)
It is very important that you select the right size tubes for your rims.

In most cases the required dimensions will be written on the side wall of your tyre for easy reference.

It is also important to purchase tubes with valves that are compatible with your bike pump. 

There are two main types of valves used in bike tyre tubes: Schrader and Presta.