Roll over image to zoom in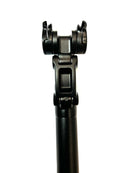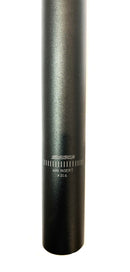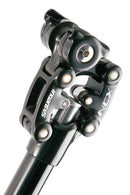 Description
A suspension seat post will greatly increase the amount your seat post can flex. This reduces the transfer of high-frequency road vibrations from your bike to your body and dampens the impacts of big hits from the road (such as bumps and potholes).
The result is a smoother ride and (sometimes) less physical fatigue.
The SR Suntour NCX Suspension Seat Post is a popular choice for eBike riders looking to upgrade their riding comfort from a fixed or spring-based seat post.
The patented parallelogram design of this seatpost delivers a well damped riding feel over bumpy terrain with its 50mm travel and it synchronises well with your natural pedal stroke and cadence.
Seatpost length is 350mm.
The NCX seat post has been engineered and built for years of comfort and performance.
Featuring a 50mm range of travel and stainless steel bushings. The SR SUNTOUR NCX seat post is best in class for performance and value. 
This is a must have accessory for any cyclist looking for the ultimate in comfort. Alleviate back pain and saddle soreness today. 
|  SPECIFICATIONS
50mm of travel
Maximum insertion 110mm height
Overall length 350mm (seat rails to bottom of post)
7mm rail saddle rail clamp diameter
31.6mm seat post diameter
Stainless steel bushings
Patented parallelogram design
Preload adjustable 
Internal coil spring design
Side clamp has a radial detent with wide adjustment range
Stock standard spring is rated for riders of 140-180lbs
Weight 765g