Roll over image to zoom in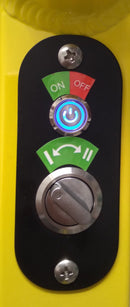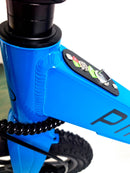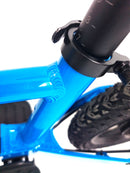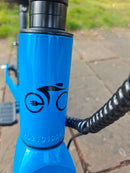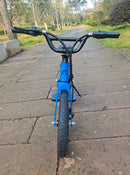 Description
Kids Electric Balance Bike
At Pirez, we believe that there is an electric bike suited to everyone, even our kids. They especially want to copy older folks and experience the fun and exhilaration of riding.
For this reason, we found a product which is perfect to introduce our young ones to the world of biking, you'll want to check out.
The Pirez Electric Balance Bike is the perfect way for your kids to learn how to ride as they can focus on balancing and steering because they don't need to worry about pedalling to move, the motor does all the hard work for them.  
This can also be a great transition mechanism and almost a prerequisite to riding a motorcycle or ebike in the future.
Young bicycle or motorcycle enthusiasts will quickly build confidence while learning the use of a throttle and brakes.
A New Experience For Kids
Your kids can enjoy this bike's propulsion from the significant 200W motor which can reach up to 8km/h in first gear or 12km/h in the second gear.
These sturdy electric balance bikes have been built with a durable aluminium alloy welded frame and some of the best parts you can equip a bike with.
These bike frames have gone through vigorous 'shake testing' over 100,000 times as opposed to other bikes of this style which are only tested up to 70,000 times. We are confident you wont find a better frame!
Besides the thrill of watching your kids, master the skill of riding, you can rest assured they are on a cycle that has been built with safety and stability in mind.
| FEATURES
The Pirez Balance Bike comes in two brilliant colours:
 A full charge of the Electric Balance Bike's battery will allow riding time for up to 1.5 hours.
 The Pirez Balance Bike also operates with a motor that is below 200W.
Of course, we recommend that they are never ridden in the vicinity of cars or similar vehicles.
Safety must always be paramount.
Click here to view Kids Safety Gear
 For a range of spare or replacement parts click here!
The Pirez Electric Balance Bike for kids features a simple throttle with a battery level display and a host of safety features to inspire confidence in young riders aged 4 and above.
The operating time is up to 2 hours of constant use and recharge time is up to three hours.
Additional batteries are available for a quick and convenient swap to keep the fun times rolling (runtime will vary depending on speed setting, rider weight and riding conditions).
Technical highlights include a lightweight aluminium frame and handlebar, chain drive and pneumatic all-terrain rubber tyres.
It also comes with an Australian 240V household charger.
Balance Bikes are a great way for children to learn to push, balance, and coast in the non-powered mode, which makes for an excellent, gradual introduction.
Once the child demonstrates proficient use and understanding of the brake and the ability to coast and brake while standing then the electric low-power mode via the throttle can be introduced.
Additional features include a two power level modes, a fully-enclosed chain cover, a rear drum brake activated via hand lever, a power cut-off switch built into the brake lever, which automatically cuts power if the rider pulls in the lever, thus preventing a panic throttle twist.
The electric balance bike is the ultimate teaching tool for those who want their child to learn the basics of riding a motorcycle without the dangers and maintenance that petrol powered motorbikes pose.
| SPECIFICATIONS
Frame: Aluminium Alloy 6061
Fork: Magnesium Alloy
Tyre: 14 x 2.125 inch
Battery: 24V 2.5AH lithium battery  
Charger: AC100-240V 50-60HZ, 
Charger time: 2-3h
Motor:  24V 200W,  brushless
Brake: Front and rear disc brakes
Speed: 1st gear 0-8km/h , 2nd gear: 8-12km/h, 
Range: 25-30kms
Nett Weight: 11kg
Gross Weight: 14kg
Carton size: 87 x 21 x 48cm
Bike size: 103 x 20 x 60cm
Feet hold to ground: 17cm
Saddle height: 47-57cm
Wheel base: 72cm
Suit for ages:  4 & over
Loading capacity: 45kgs

 For a range of spare or replacement parts click here!
| VIDEO
Click here to watch our quality assurance test ride!

He says .... It's definitely sick!