Roll over image to zoom in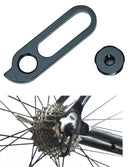 Description
Universal rear derailleur hanger
Suitable for emergency situations. Can be used temporarily to replace a broken or damaged hanger during cycling.
A bent or damaged rear derailleur hanger can often mean a long walk to the next service stop, or the end of the ride altogether.

This emergency rear hanger allows you to fix your rear derailleur securely in place in order to continue cycling to a suitable service point. Simply unmount the derailleur from the gear hanger, open your quick release lever and remove the standard quick release retaining bolt.
Replace the retaining bolt with the emergency hanger and bolt before mounting the derailleur on the emergency hanger.
Adjust the tension barrel on the derailleur to align the cage with your chosen gear on the cassette.

Please note changing gear with the emergency rear hanger installed is not recommended.
| SPECIFICATIONS
Material: Alloy 6061 T6
Spec: M10 - QR axles
Weight: 5.4g
Carry it in your tool bag for emergencies.
Compatible with quick release axles only!