Roll over image to zoom in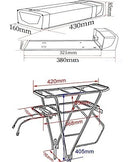 Description
Rear Rack Battery Case (Wide)
Suitable replacement case for Lithium Ion Rear Rack Batteries.
Note: Includes an EMPTY battery case with mounting plate and keys. Does not contain battery cells or rear rack - This is an empty case only for replacement or build purposes.
The REAR RACK, spare parts or a complete battery set with charger  can be purchased separately. See other listings.
|  FEATURES
ON / OFF - Power switch to control battery discharge

Waterproof and solid Aluminium alloy case

Illuminated LED power indicator

LED tail light design

Fitted lock with key to securely locks the battery to the mount on bike rack

Provides controller box space
|  SPECIFICATIONS
Model: S045 Rear Rack Carrier Li-ion e-bike Battery Case

Battery Size: 430mm x 160mm x 90mm

Charger Port: RCA Plug