Roll over image to zoom in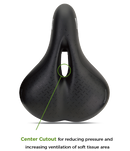 Description
Acentia saddles are offered in a variety of shapes and sizes so that you may have a better chance of finding the right saddle to fit your anatomy and riding style.
The Pax Aura Saddle incorporates a wider rear zone with elastomers that offer further suspension between the saddle and its rail.
There are two elastomer suspension springs incorporated into the rear rail receptacles for maximum shock absorption.
Each and every Acentia saddle has silicon gel inside which offers amazing support and shock absorption. 
Like all other "Aura" models, the Pax Aura adds a central cutout zone for added relief to surrounding soft tissues.
Unlike conventional saddles with glued or stapled covers, the Pax Aura is an injection molded saddle. This means the covers are fused with the padding, onto the saddle base for enhanced protection against rips and tears.
These saddles are formed by one-piece injection molding which helps to prevent the cover from ripping and tearing.

|  FEATURES
The Pax Aura Features:
Silicon gel pads provide more comfort and support for the sit bones

Elastomer springs for shock-absorbing

Injection moulded one-piece construction

Cut-out placed at the centre for ventilation and alleviating pressure at the perineum.
You just can't go wrong with this saddle.
|  SPECIFICATIONS
Size: L275mm x W220mm
Sit-Bone Width: 70 - 200mm
Rail: Steel
Weight: 744 grams
Colour: Black