Roll over image to zoom in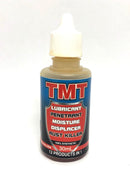 Description
TMT SEAL LOCK - 30ML
LUBRICANT
PENETRANT
MOISTURE DISPLACER
RUST KILLER 
Seal-Lock Lubricant is like liquid lightning and is the superior product for long term, trouble free service for any moving part including winches, cables, locks and hinges, doors & windows, roller doors, bearings, skate boards, perfect for all fishing reels and tackle, ultimate gun lube and superior chain lube for all motorcycles, bicycles, ebikes, scooters and go-karts.
Seal-Lock Lubricant penetrates through solid rust and all forms of corrosion and breaks down carbon to free up seized nuts and bolts, drive shafts, injectors, tools, chains, and will keep them free and serviceable for months on end.
Seal-Lock Lubricant drives away moisture, creates an invisible barrier that stops rust and other forms of corrosion and leaves a dry - lint and dust free surface.
Protects against electrolysis.
Won't freeze to -73C and resists temperatures to +260C.
For protection against the elements use TMT on all hand, power & garden tools, outdoor furniture, swings, bicycles, TV antennas, BBQ's, hinges, locks, aluminium windows & doors, lawnmowers, chain saws, snow & water ski's , boats and all marine equipment, the list is endless.
Seal-Lock Lubricant  is non-conductive making it an outstanding electronic lubricant-cleaner- corrosion preventative and moisture displacer for all electrical and electronic- parts & equipment.
Seal-Lock Lubricant is a dedicated drilling - tapping - cutting fluid that reduces friction and wear making drilling, tapping and cutting all metals including stainless so much easier while prolonging the life of your tools.
Seal-Lock Lubricant water proofs, polishes and protects all metal surfaces and will not wash off!
Seal-Lock Lubricant is BIODEGRADABLE and ODOURLESS making it safe for all HOUSE HOLDS.