Roll over image to zoom in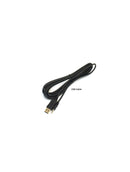 Description
Smart Charger - Cycle Satiator - TTL-USB Programming Cable
The TTL->USB cable is used for connecting the Satiator to a computer's USB port for updating firmware and reading/writing new charge profiles.
This is the same 3m long cable used by the Cycle Analyst, but with some additional circuitry to protect against high voltages present when it is first plugged in. 
 This 3m Long TTL-> USB programming cable is compatible for Satiator, Baserunner, Phaserunner and Cycle Analyst.
*Note: If you purchased a Cycle Satiator your kit is pre-programmed and you should not need to change any settings.*
|  INCLUDES
Programming cable only - you will need a compatible adaptor to  connect to a Cycle Satiator or similar device.