Roll over image to zoom in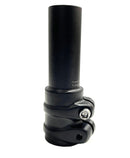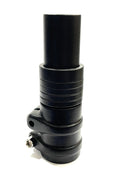 Description
The Stem Riser - allows the handlebar height to be lifted.
Hence, lifting your hands to a higher position which allows a more comfortable upright riding position.

Compatible with all 28.6mm fork steerers. NOT compatible with 1" fork steerer.

Built light (225g) but strong - The riser is made of heat treated strengthened quality Aluminium 6061. It is very safe to use.
 This product is similar to the Satori - Heads Up 4 Stem Riser

|  INCLUDES
Spacers: 1x10mm, 4x5mm;
Height: 120mm,
Base Diameter: 28.6mm.
Headset cap & bolt are also included in the package.
|  INSTALLATION
 This product is similar to the Satori - Heads Up 4 Stem Rise
Click here for: Installation Video