Roll over image to zoom in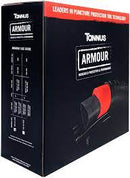 Description
The Tannus Armour Tubed Insert offers 360 bead to bead puncture protection for all levels and styles of riding.
Used by the likes of Red Bull Rampage Athletes, Dirt Jumpers, Enduro Racers, weekend warriors, it adapts to your trail environment as it's not just a piece of foam in your tyre.
Sitting flush between your tyre and inner tube, the Tannus Armour provides 15mm of puncture protection on the top, as well as 2mm of sidewall protection from sharp objects sidewall cuts, rim damage and pinch flats. 
On top of this, it helps displace small impacts and offers a spring-like rebound for a smooth yet playful ride.
Finally, the Tannus Armour Tubed Insert flexes with the tyre and rim for added traction, protection and stability.
|  FEATURES

Flexible Wings: Not just a big chunk of foam. Armour Tubeless wings flex with the tyre and rim to provide more traction" stability" and protection.
Easy To Install: Trail ready in 5-10 minutes. No compressor" friends" or complicated tools are needed. Simple frustration-free install!
Shock Absorption: With 15mm of rim protection" Armour Tubeless provides almost double the shock absorption from impacts.
Fast Rolling: Engineered to minimise drag.
Run-Flat: If the unlikely happens you can still ride for up to 10km/h without damaging your wheel
Increased Grip: Run at lower PSI for more confidence to push the limits.
|  SPECIFICATIONS

Tyre Size: 27.5 x 2.6 - 3.0"
Tube Size: 27.5 x 2.0 - 2.4"
Weight: 330g